Home

Cancun has 140 hotels and 380 restaurants with four million visitors each year. It is the largest resort area in Mexico.
The "Hotel Zone" is one of the most exclusive destinations internationally with truly upscale amenities to fulfill even the most discriminating taste of the rich and famous, with prices to match.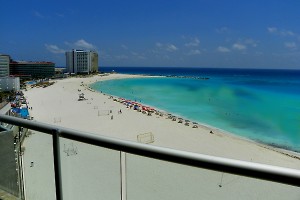 However, at "Cancun Beach Condos" you can enjoy being in the hotel zone and save substantially over the usual hotel accommodations. Our condos are located on the beach, exceptionally maintained and right in the middle of all the hottest restaurants, nightlife and shopping.
The Hotel Zone is a fifteen mile long island connected to the mainland on either end. The north end connects to downtown Cancun with a population of about 500,000. Downtown has three Walmarts, a Costco, a Sam's Club, a Home Depot, an Office Max and the "must see" mall, Plaza Las Americas; a shopping mall that outdoes any major mall in the United States. Downtown Cancun also has many fine restaurants that are worth your visit.
Nearby are many lagoons, ecological reserves, the second largest reef in the world, the Mayan Ruins of Tulum and Coba and a paradise of brilliant flowers as well as an astounding variety of animals: from the ever present iguanas to crocodiles, pelicans and the amazing whale sharks.
We are Americans and fell so in love with this area that we live here full time. Our mission is to assist you in enjoying all that Cancun and the surrounding areas have to offer and to make your visit the most memorable and pleasant.